A history of the restaurant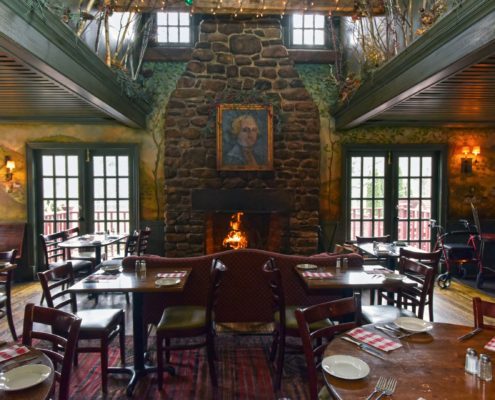 Named after our first president in honor of his passage through this small town in the foothills of the Berkshire Mountains lays Washington Depot, Ct. Continuing in his honor, the G.W. Tavern keeps the founding father's initials. Once a charming, circa 1850 Colonial home located off the beaten track, now a Tavern offering summer dining on our flagstone patio overlooking the Shepaug River. Spend winter nights inside getting warm beside our floor-to-ceiling fieldstone fireplace, surrounded by hand painted murals of the old town and farms.
Relax on the sofa beside the fireplace with a specialty draft or bottled beer, or have a glass of wine from our extensive list of wines by the glass. Featuring seasonal specialties from Fiddleheads and Soft shells in the spring to game & fowl throughout the winter, purchasing from local purveyors whenever possible.